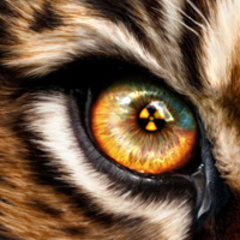 Kurt Miller
Freelance Illustrator
California, United States
Summary
Kurt Miller currently resides in California with his two dogs near the high Sequoia mountains. He graduated from Maryland Institute College of Art with a Bachelor of Fine Arts Degree in Visual Communication and with an Award of Merit for Outstanding Achievement in Illustration. He has been in the visual communication field since 1990, going back to the days before the 3D generation; 8 of those years Kurt spent illustrating in the gaming entertainment industry.
As an in house Lead Illustrator for Avalon Hill he was allowed full control to illustrate entire board game packages. His career has led him down many paths but none as rewarding as visual illustration. Later Kurt ventured into the computer world and went on board with a computer game company, Talonsoft. There he picked up on many types of software and developed some award winning titles. Computers and various programs have provided the tools to create unique visual perspectives, which help propel his clients to new levels of creative statement. His ability to conceptualize for these clients is highly regarded and allows them to focus on the written message while he explores the visual content.
He's quite proud of the relationships he has developed over the years working with talented directors and marketing professionals who know the path to success. Computers give each of us instant access to an industry of resources, which empower us to create beyond our own imaginations. Currently Kurt is a full-time freelance Illustrator as the owner of KMI Studio, LLC whose client list includes Activision, Baen Books, Electronic Arts, Hasbro, ID Soft, National Geographic, Nintendo, Take Two Interactive and Valley Games. Please take a moment and look over Kurt's creations. Thank you.
Skills
Matte Painting
Concept Art
Painting
Character Design
3D Modeling
Digital Painting
Illustration
Drawing
Traditional Art
Book Cover Illustration
Software proficiency
Experience
Lead Illustrator at Avalon Hill

Baltimore, United States of America

March 1992 - January 1998

Responsible of illustrating the company's game product. Illustrating game cover, interior of product, counters, cards and the game board. Medium used was air brush with gouache or acrylics, oils, prisma pencil and ink.

3D/2D artist at Talonsoft

Baltimore, United States of America

January 1998 - March 2000

Computer game company. I was responsible for the in-game components and interface for computer games graphics. Medium of choice was 3Ds Max, Bryce and Photoshop.

Lead Illustrator at Take Two Interactive

Baltimore, United States of America

Lead illustrator for a computer game industry. I was responsible for illustrating in-game art and game packaging. Game such as Railroad Tycoon 3, West Front, Operation of War, Outlive, Jetfighter IV, Age of Sails II, Ski Resort Extreme and Q-Ball to name a few.